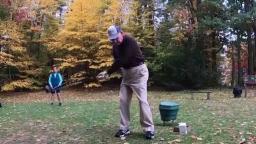 We all know the expression: "Age is just a number." But some people really prove it.Floyd Severance is proving there's no age limit to hitting the links, and his love for golf helps keep him young."You gotta have something to do every day," Severance said. Severance is 98 years old, a World War II veteran, retired mail carrier, father, grandfather, great-grandfather and great-great-grandfather to 54 children. He's also an avid golfer. "I don't consider myself a good golfer," Severance said. But the plaques say otherwise. He is the two-time senior league champion at his home course, Duston Country Club in Hopkinton.Everyone knows Severance at the links. He's two years older than the course. "A lot of people, when they're playing with Floyd, they want to walk because he's 98 and he's playing golf," said Ryan Hall, owner of Duston Country Club. "They're like, 'I'm 20 years younger than him. I don't want to have to get shown up by a 98-year-old man."He makes every par 3 in the green in one shot. Floyd golfs twice a week. Obviously, he loves it, but it's also his secret to staying young."I don't feel any older now than I did probably 10, 20 years ago," Severance said. "I don't feel any old. It's just a number."And, no surprise, Floyd already bought his membership for his 99th trip around the sun."You got to keep going, Mike," Severance told WMUR sports director Mike Cronin. "You got to keep going. Don't stop. Don't give in to that rocking chair. Don't do it."
HOPKINTON, N.H. —
We all know the expression: "Age is just a number." But some people really prove it.
Floyd Severance is proving there's no age limit to hitting the links, and his love for golf helps keep him young.
"You gotta have something to do every day," Severance said.
Severance is 98 years old, a World War II veteran, retired mail carrier, father, grandfather, great-grandfather and great-great-grandfather to 54 children. He's also an avid golfer.
"I don't consider myself a good golfer," Severance said.
But the plaques say otherwise. He is the two-time senior league champion at his home course, Duston Country Club in Hopkinton.
Everyone knows Severance at the links. He's two years older than the course.
"A lot of people, when they're playing with Floyd, they want to walk because he's 98 and he's playing golf," said Ryan Hall, owner of Duston Country Club. "They're like, 'I'm 20 years younger than him. I don't want to have to get shown up by a 98-year-old man."
He makes every par 3 in the green in one shot. Floyd golfs twice a week. Obviously, he loves it, but it's also his secret to staying young.
"I don't feel any older now than I did probably 10, 20 years ago," Severance said. "I don't feel any old. It's just a number."
And, no surprise, Floyd already bought his membership for his 99th trip around the sun.
"You got to keep going, Mike," Severance told WMUR sports director Mike Cronin. "You got to keep going. Don't stop. Don't give in to that rocking chair. Don't do it."
Note:- (Not all news on the site expresses the point of view of the site, but we transmit this news automatically and translate it through programmatic technology on the site and not from a human editor. The content is auto-generated from a syndicated feed.))