Alex Mudaugh murder trial: Footage shows investigator asking Alex Murdaugh if he killed his wife and son- QHN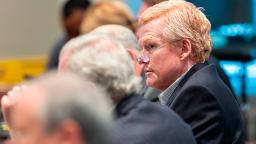 Editor's Note: The HBO docuseries "Low Country: The Murdaugh Dynasty" chronicles the family's influence in South Carolina. It airs on CNN Sunday, February 19, at 8 p.m. ET.


CNN
 — 

The jury in Alex Murdaugh's double murder trial saw footage Wednesday from a crucial interview he had with state investigators where he was asked for the first time if he killed his wife and son.
The interview on August 11, 2021, was the third Murdaugh had with the South Carolina Law Enforcement Division, which was investigating the murders of his wife, Margaret "Maggie" Murdaugh, and grown son, Paul Murdaugh, three months earlier, according to testimony Wednesday by SLED agent Lt. David Owen.
The interview was about to end when Owen told Murdaugh he had "a few more questions."
"Did you kill Maggie?" Owen asked, according to the footage played in court.
"No," Murdaugh said. "Did I kill my wife? No, David."
"Do you know who did?"
"No, I do not know who did," Murdaugh said.
"Did you kill Paul?"
"No, I did not kill Paul," Murdaugh said.
"Do you know who did?"
"No, sir, I do not know who did," Murdaugh said. "Do you think I killed Maggie?"
"I have to go where the evidence and the facts take me," Owen said.
"I understand that. And you think I killed Paul?"
"I have to go where the evidence and the facts take me," Owen said again. "And I don't have anything that points to anybody else at this time."
"So does that mean that I am a suspect?"
Owen told Murdaugh he was "still in this," adding, "I have to put my beliefs aside, and go with the facts."
Owen's testimony Wednesday comes as the state nears the end of its case, in which prosecutors contend Murdaugh killed his wife and son to distract from a mountain of alleged financial crimes he had committed and to stave off a "day of reckoning" when those crimes might come to light.
The defense maintains Murdaugh – who has pleaded not guilty to two counts of murder and two weapons charges in the killings – was a loving father and husband who called 911 the night of the killings after he found his wife and son shot at the family's estate in Islandton, South Carolina, a property known as Moselle.
At the time of the August 11, 2021, interview, Murdaugh was "the only known suspect" in the murders, Owen testified Wednesday.
The case was transferred that same day from the local solicitor to the Attorney General's Office, which has been prosecuting the case due to the Murdaugh family's long ties with the local solicitor: Three generations of Murdaughs served as the 14th Circuit Solicitor over about 87 years.
Murdaugh's statements during the August 2021 interview were voluntary, Owen testified Wednesday. Murdaugh wanted to ask SLED agents questions about the investigation, Owen said, and the agent told him he wanted to ask Murdaugh some questions, too. Murdaugh indicated he was comfortable answering the agents' questions.
Murdaugh claimed to law enforcement he last saw Maggie and Paul earlier in the evening of the murders. They ate dinner together before Murdaugh took a nap and then drove to Almeda to visit his mother. He discovered the bodies of his wife and son, he said, when he returned home and called 911 at 10:07 p.m.
The footage played in court Wednesday showed SLED agents confronting Murdaugh about evidence that appeared to contradict his earlier statements to law enforcement.
It was the first time, Owen testified, that Murdaugh was confronted with the fact that Paul's friend, Rogan Gibson, said he heard Murdaugh's voice in the background of a phone call he had with Paul that night, shortly before the murders took place.
"You were heard in the background, and that was prior to 9 p.m. … Was it you?" Owen asked Murdaugh, per the footage shown in court Tuesday.
"At nine o'clock? No, sir," Murdaugh said, "not if my times are right."
"Who do you think it could have been?"
"I have no idea."
"And Rogan's been around your family for pretty much all his life," Owen said, something Murdaugh agreed with. "And he recognizes your voice, and you have a distinct voice. Can you think of anybody else that has a voice similar to yours that he may have misinterpreted?"
"No, sir."
Months later, investigators discovered a video on Paul's phone that he filmed immediately after that call, at 8:44 p.m. in the area of the family's dog kennels, near where the bodies were found. Multiple witnesses at trial have identified Murdaugh's voice, along with Maggie's and Paul's, in that video, contradicting Murdaugh's statements to investigators he had not gone to the kennels before finding the bodies.
The footage played Wednesday also showed the agents confront Murdaugh about another piece of footage filmed by Paul the night of the killings: A Snapchat video showing Murdaugh looking at a sapling on the family's property. In it, Murdaugh is seen wearing pants and a blue shirt. But later, he was wearing shorts and a white T-shirt.
"There's a video on Paul's phone of you and him on the farm that night. You're wearing khaki pants and a dress shirt … When I met you that night, you were in shorts and a T-shirt," Owen said. "At what point in the evening did you change clothes?"
"I'm not sure," Murdaugh said. "What time of day was that? I would have thought I would have already changed."
Testimony in recent days similarly undermined statements Murdaugh made to SLED during the August 2021 interview – namely, that Maggie decided to go to Moselle the night of the killings because she was worried about him and his father, whose health was deteriorating.
Two witnesses disagree: On Tuesday, Maggie's sister testified it was Murdaugh who wanted Maggie to come to Moselle. Maggie was staying in the family's Edisto Beach property and did not want to go to Islandton, Marian Proctor said, recalling a conversation they had the day of the murders.
Proctor encouraged Maggie to go, she said, breaking down in court.
Blanca Simpson, a family housekeeper, similarly testified last week that Maggie told her the day of the murders that Alex had asked both Maggie and Paul to come to Moselle that night.
Earlier Wednesday, Judge Clifton Newman ruled against allowing testimony about the roadside shooting in September 2021 in which Murdaugh claimed he asked another man to shoot him so his surviving son could obtain millions in life insurance.
Prosecutor Creighton Waters argued the roadside shooting showed a "consciousness of guilt," pointing to the defendant's initial statements to law enforcement he had been targeted by an unknown assailant after Murdaugh pulled over to address a flat tire. This led people to believe, Waters said, that Maggie and Paul's killers had come back to target Alex and so he could not be responsible for their deaths.
Waters also argued the roadside shooting illustrated a "symmetry" with the murders of Maggie and Paul: Both shootings occurred soon after members of Murdaugh's former law firm confronted him about stealing from the firm and its clients.
Defense attorney Dick Harpootlian opposed the inclusion of the testimony, saying it showed guilty knowledge not of the killings but of the financial crimes, for which Murdaugh, now disbarred, faces 99 charges separate from the murder case.
Newman ruled that, while he allowed evidence of Murdaugh's alleged financial crimes to show motive, the roadside shooting would be a "bridge too far" and "does not meet the logical relevancy test."
Murdaugh later told authorities he conspired with a former client to kill him as part of an insurance fraud scheme, court documents show, purportedly so his son Buster could collect the payout. Murdaugh believed, Harpootlian would tell NBC's "Today Show," that his life insurance policy had a suicide exclusion.
Murdaugh was charged with insurance fraud, conspiracy to commit insurance fraud and filing a false police report in connection to the shooting. The shooter, Curtis Edward Smith, was charged with assisted suicide; conspiracy to commit insurance fraud; pointing and presenting a firearm; and assault and battery of a high and aggravated nature, according to authorities.
The South Carolina Law Enforcement Division later described the injury as a "superficial gunshot wound to the head."
Note:- (Not all news on the site expresses the point of view of the site, but we transmit this news automatically and translate it through programmatic technology on the site and not from a human editor. The content is auto-generated from a syndicated feed.))