I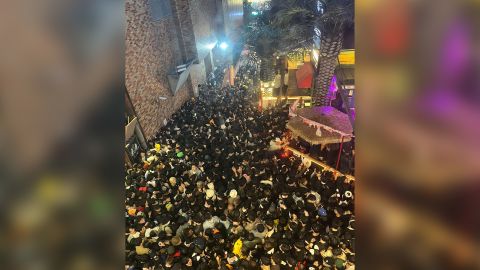 f you're in a crowd and people are close enough to bump against you, it could be getting too crowded.
That's according to G. Keith Still, a visiting professor of crowd science at the University of Suffolk and head of GKStill International, a consultancy that trains event organizers on how to spot danger.
Such events, like the apparent crowd surge at packed Halloween festivities in the South Korean capital of Seoul and the tragedy at Houston's Astroworld Festival in Nov. 2021, have led to multiple deaths and injuries.
Still, who has been studying the dynamics of crowd behavior and safety for over 30 years, said organizers can help prevent crowd-crushing incidents by monitoring a crowd's density in real-time and regulating the flow of people into a venue.
Crowd density can be calculated in number of people per square meter, roughly a square yard. Younger, smaller people occupy less space than older and larger people, but as a rule things get uncomfortable once you reach five people per square meter, Still said — and anything more crowded can become dangerous.
"When bodies are touching, that high energy and density can give rise to these surges and crowd collapses," Still said.
One sign a crowd has become too dense is what Still called a "field of wheat effect," where people are uncontrollably swaying. He said an example is visible in online videos of a 2005 Oasis concert in Manchester, England, just before a big surge rippled through the crowd toward the stage.
The key to preventing a disaster, Still said, is for organizers to watch the density and, if it starts to get high, slow or stop the flow of people entering the area. He said it's much harder to reduce crowding once the situation has become too dense.
If a venue does get too crowded, Still said, performers should stop and ask everyone to take a step back. Over the years, several performers, including A$AP Rocky and Linkin Park, have done exactly that.
If you're in a crowd, Still said you can help yourself stay safe by watching out for areas likely to become most crowded, and making your way out of the crowd if you don't have enough personal space.
You can learn more by viewing an interactive graphic here.
Note:- (Not all news on the site expresses the point of view of the site, but we transmit this news automatically and translate it through programmatic technology on the site and not from a human editor. The content is auto-generated from a syndicated feed.))