CNN
 — 

The Shreveport, Louisiana, police officer charged in the shooting of an unarmed Black man earlier this month had twice been suspended from the department without pay, records show.
Officer Alexander Tyler, 23, served a combined 30 days on suspension in 21 months with the Shreveport Police Department, according to personnel files obtained by CNN.
Tyler is currently on administrative leave after being charged with negligent homicide in the February 3 death of Alonzo Bagley.
Bagley, 43, was shot after Tyler and another officer responded to a domestic disturbance call at an apartment complex, according to Louisiana State Police, which is investigating the encounter.
When the officers arrived, Bagley jumped down from an apartment balcony and fled. After a brief foot chase Tyler shot Bagley, who was later found to be unarmed, state police said.
Investigators have released body camera video and a 911 call related to the shooting, which happened less than a month after the fatal beating of Tyre Nichols by Memphis officers during a traffic stop that reignited a national conversation about police use of force against people of color, particularly Black Americans.
Tyler's attorney, Dhu Thompson, told CNN last week he hopes the video is reviewed "thoroughly and a decision is made based on facts and evidence."
"Officers are always faced on a day-to-day basis with dangerous situations like that and at times where they have to make split-second decisions where they're in a potential life-threatening situation," Thompson said.
According to the personnel files, Tyler joined the Shreveport Police Department in May 2021. The documents contain redactions of some personal information, and four pages of information that was fully redacted. In total, the department released more than 450 pages of documents, video and audio recordings to CNN as part of an open records request.
His two suspensions occurred in November 2022 and December 2022, the records show.
The November suspension was for conduct that is unbecoming during an incident that occurred in September 2022, according to the records. Tyler was suspended without pay for 15 days. The file did not elaborate further.
He was again suspended for 15 days in December, but the records did not indicate the reason.
Prior to the suspensions, in February 2022, a "personnel action notice" was issued, and Tyler was transferred to a new area of patrol and shift. The documents don't say what prompted the action.
He received a letter of commendation from the department in April 2022 for his work on a shots fired call that led to a drug bust, the documents show.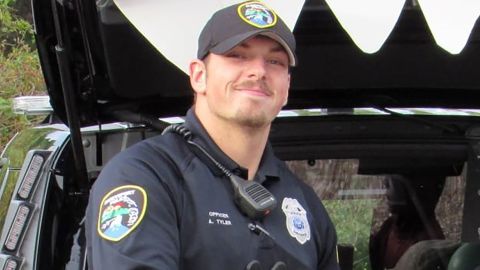 A performance review from June 2022 said Tyler "displays good judgment," "has satisfactory contacts with the public," and noted that he "tactically performs well under stress and has been actively taking steps to improve his communication skills under stress and has indeed improved in that area."
Shreveport Police Internal Affairs later opened an investigation into Tyler after receiving a complaint alleging that, on July 23, 2022, he violated department policy related to vehicle pursuits and operation of in-car cameras, as well as state law related to speed limits during a pursuit.
The investigation report says Tyler drove up to 114 mph before activating his lights and sirens. He then increased his speed to 132 mph for three minutes, with his lights and sirens on while attempting to pull over a vehicle for a "modified exhaust," the report says.
The investigation sergeant said Tyler was driving between 60 to 70 mph over the posted speed limit. During an interview with Internal Affairs, Tyler said his speeds were "excessive" and took accountability for his actions, according to the documents.
A letter of reprimand was issued in October 2022 and Tyler was required to take a defensive driving course and ride with a sergeant for a week, records show.
Speaking last week after charges against Tyler were announced, Shreveport Police Chief Wayne Smith said, "Disciplinary wise I would not say he has been a disciplinary issue, or at least not to the point where things would rise on our radar. We do have a procedure in place called an early warning system when an officer gets so many incidents, that's brought to our attention. His history with our department had not reached the level where the early warning system would have picked it up and brought him in front of our radar."
When asked by CNN if Tyler had previously been cited for violence towards a suspect the chief said, "To my knowledge only one, I believe, I wouldn't hold me to closely, but only one comes to mind at this point." It is unclear what incident the chief was referring to and he did not elaborate.
The personnel files show Tyler had no previous law enforcement experience in the state of Louisiana and had not served in the military before joining the Shreveport Police Department. His highest level of education was high school according to his files.
Bagley's family has filed a federal lawsuit against Tyler, seeking more than $10 million in damages. The lawsuit alleges that the officer violated Bagley's Fourth Amendment rights.
Note:- (Not all news on the site expresses the point of view of the site, but we transmit this news automatically and translate it through programmatic technology on the site and not from a human editor. The content is auto-generated from a syndicated feed.))