Opal Lee, the 'grandmother of Juneteenth,' becomes second African American to have portrait hung in Texas statehouse- QHN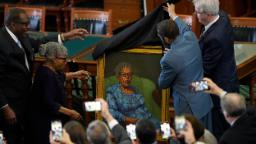 CNN
 — 

Opal Lee, the 96-year-old Texan who successfully championed legislation to make Juneteenth a federal holiday, was honored on Wednesday with the unveiling of a portrait at the state Capitol.
The portrait of Lee, known as the "grandmother of Juneteenth," is the first new portrait to be hung in the state Senate chamber in more than 40 years.
"This is a historic day," Texas Lt. Gov. Dan Patrick said during the unveiling ceremony.
Lee, who walked from Fort Worth to Washington, DC, to advocate for the Juneteenth holiday, received a standing ovation during the ceremony. "This does not happen often, it's a great honor," Patrick said.
The resolution to honor Lee was presented by State Sen. Royce West who said Lee is "worthy of all the accolades" that have come her way.
State Sen. Borris Miles said the celebration of Lee is an example of Texas giving people roses while they are alive to receive them. Miles called Lee a "living legend" whose work will be studied and admired for generations.
Lee told CNN she was delighted when she heard she would be honored with a portrait in the statehouse.
"I was humbled," Lee said. "I'm hanging in the same chamber with Barbara Jordan. Oh, wow. I didn't know how to act."
Lee's portrait joins the portrait of late Rep. Barbara Jordan to be the only two Black Americans honored in such a manner in the Texas statehouse. Jordan served in the Texas state Senate prior to representing the state in Congress until her death in 1996.
President Joe Biden signed the bill making Juneteenth a national holiday in June 2021.
Lee told CNN she plans to continue her activism advocating for issues such as joblessness, homelessness, health care, and climate change but also wants to continue to educate others about Juneteenth and the effects of racism.
She said it's up to the youth to teach people to love and not to hate.
"I don't see why the color of your skin seems to make a difference," Lee said, adding that it's time for society to "get over" racism.
Since getting Juneteenth recognized as a federal holiday, Lee has written a children's book to help educate the youth about Juneteenth and is working on getting funding for a Juneteenth museum in Fort Worth.
"Everybody has a part to play," Lee said.
Note:- (Not all news on the site expresses the point of view of the site, but we transmit this news automatically and translate it through programmatic technology on the site and not from a human editor. The content is auto-generated from a syndicated feed.))